Discover more from SPL Newsletter
News, events, and new books at Stonington Public Library
SPL Labor Day Raffle
Lotsa prizes, lotsa ways to win! Live drawing Mon. 9/4 at 11am EDT @ SPL and via Zoom.
SPL—where Labor Day is synonymous with winning!
Yes, it's that time of year. We're back with our Labor Day raffle, and whether you're here on the island or anywhere else in the world, you can get in on the fun. All it takes is one ticket…
The live drawing with emcee Jimmy Cook will be held on Monday, September 4, 11am EDT at SPL and via Zoom (link below).
$5 Raffle, 35 prizes!
Any one of these 35 FABULOUS prizes could be yours, but there's only one way to win: buy tickets! It costs $5 to enter, or get 5 tickets for $20. This year winners get to pick their prizes in the order their tickets are drawn. BUT anyone who attends the live drawing—in person or on Zoom—gets to jump the queue and pick their prize right when their ticket is drawn. All other winners will be called after the drawing to select their prizes from those that remain.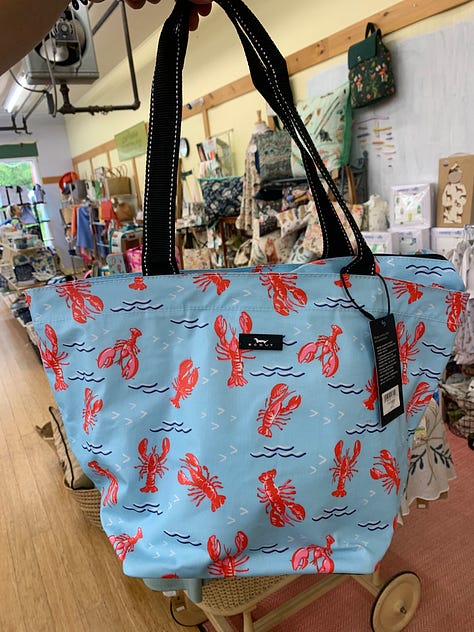 44 North Coffee $50 gift card + gift basket

Adell Donaghue tiny print

Blue Hill Books $50 gift card

Blue Hill Co-op $25 gift card

Blue Hill Wine Shop 2 bottles chosen by Max

The Dry Dock $50 gift card

El El Frijoles $25 gift card + t-shirt

Emily Ludolph ceramic vase

Four Acre Woods Campground two night stay + kayak rentals

Good Tide Tours one-hour boat tour for two

Greenhead Lobster eight frozen lobster tails

Greenlaw's RV Park & Campground $125 gift card

hanna b designs faux real fabulous coat

Harbor Cafe $50 gift card

Humblebee Cafe $20 gift card

Island Ad-vantages one-year subscription

Island Fishing Gear & Auto Parts $25 gift card

Isle au Haut Boat Services two harbor cruises

J. McVeigh Jewelry $100 gift card

Katherine Hall Page two signed books + chocolate bread pudding

L.L.Bean $75 gift card

Leaf & Anna scout shoulder bag

Long Cove Sea Farm 1 dozen oysters

M.D. Joyce & Co. $50 gift card

Mainescape Nursery & Garden Shop $50 gift card

Marlinespike Chandlery waxed cord bracelet

Nervous Nellie's Jams and Jellies two-jar gift set

Oceanville Flowers seasonal arrangement

Opera House Arts two movie passes + popcorn

Osprey's Echo Sea Kayaking $50 gift card

Owl Furniture $100 gift card

Penobscot Bay Press four book set

Roaring Lion Farm $25 gift card + t-shirt

Sea Kayak Stonington destination trip for two

Tom Yaroschuk tarot reading
7 Grand Prizes!
Win BIG in our SEVEN grand prize drawings! It costs $10 to enter one grand prize drawing of your choice—or get 5 entries for $40 and divvy up your chances however you like.
Adell Donaghue Painting
"Cabin in Sullivan" is part of a series of oil paintings based on my plein air studies made at Edgewater Cabins in Sullivan, ME. This painting is a study for a larger work.
Adell exhibited her artwork last summer at SPL, and she also donated a tiny print to this year's raffle—enter the $5 raffle pool for a chance to win that, too!
Dundee Limited Edition 2024 Calendar
Dundee is the unofficial "mayor of Stonington." Beloved for his neighborhood walkabouts and house inspections, he holds office hours at Dockside Books & Gifts on West Main Street.
Humblebee Cafe Quilt
This 60" x 60" quilt was made by 11-year-old Corbin Poole and his grandmother Lucie Tyler. Corbin helps choose and place fabrics; he and his grandmother share their profits. Humblebee Cafe generously donated this quilt in addition to a gift card.
Jill Hoy Painting
Working with the particular qualities of Maine light has long been a primary focus of Stonington resident Jill Hoy's plein air oil paintings. Known for strong composition, energy, and power of place, Jill first came to Deer Isle at age 10 and has operated her gallery since 1986. "Island and Rocky Coast" is oil on linen.
Sam Harrington signed book, At Peace, and Coffee Chat
At Peace is the authoritative, informative and reassuring guide to end-of-life care for our aging population. Stonington resident Dr. Sam Harrington practiced medicine for more than 30 years, largely at Sibley Memorial Hospital in Washington, D.C. 
Stonington Cottage One-Week Rental
Located on one of the most charming streets in town, East Cottage is the perfect place for a person or couple to enjoy Stonington. Surrounded on three sides by lovely gardens, East Cottage sits high above the village of Stonington with stunning views of the Deer Island Thoroughfare and beyond to the many islands speckling the harbor.
(Unavailable in July and August. East Cottage can be reserved in June or September; dates to be determined between the raffle winner and the owner.)
YMCA Blue Hill 6 Month Membership
The Lawrence Family Fitness Center in Blue Hill, a branch of the Down East Family YMCA, is home to a 4,400 sq. ft. fitness center with cardio machines, selectorized strength equipment, free weights, a MOVE STRONG functional training system, an 1,100 sq. ft. fitness studio for classes including group cycle on our Schwinn bikes and a six-lane 25 yd. swimming pool.
How to Order
Fill out the online order form, or email stonington.public.library@gmail.com to buy tickets. Be sure to submit your order no later than 11:59pm EDT on Sunday, September 3.
Drawing
Join the live drawing on Monday, September 4 at 11am EDT in person at SPL or via Zoom. Click on the Zoom link at the scheduled time to participate in the live drawing.